Last Friday night, was a full evening for me.  As the Board Treasurer, I attended the SPARK Reproductive Justice NOW! Fundraiser given by our wonderful staff, who did an exceptional job.  I was able to meet some friends and socialize, drink some wine, make a button (provided by the Atlanta-Fulton Public Library System), and bid on a vacation.  I ended up winning a vacation to Barbados, so I'm super thrilled about that being on the radar in the next year!
After the fundraiser, I scurried over to Castleberry Hill to a wonderful and quaint joint called The Blu Bisque.  I was greeted by a handsome man who proceeded to check me in and pour me some wine.  There were many people socializing, drinking wine, and making plates of food, as well as a DJ who was playing some sexy music.  The lights were dim and there was a massage table in the middle of the floor.  I was particularly excited because I saw Parish, my Sister of Sexuality, Casey Carter, Erotica creator, and Tia Marie, my incredible business partner for the Sex Down South Conference.
We were all gathered here to check out Goddess Amina, who was giving a class and demonstration on Erotic Touch.  Amina has been in the industry for quite some time doing this amazing and healing work, and recently relocated from Hawaii.  She still travels back and forth quite often, but is now calling Atlanta her home.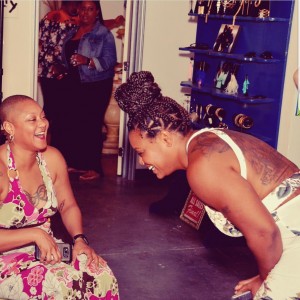 Overall, the experience was extremely titillating, educational, and fun; I really can't wait to go to her next event to see what she will have next!
If you are looking to have some erotic touch done to you or have some work done around intimacy and tantra, I highly recommend her.  She knows her stuff and she's sexy while she's doing it.
I look forward to seeing more of her in the future and I'm hoping that we'll be able to work together on something soon!
Fearless giving is a notion that is radical in its own right, especially since the world is full of fear, shame, and stigma when it comes to sexuality.  To give fearlessly is courageous, thoughtful, and when executed well, emotionally memorable.
Cheers to your sexual success!