Purple Velvet
This Hibiscus Lavender Tea is specially designed to jumpstart your planned seduction, whether it's with yourself or someone else. If you're feeling the love, this tea helps you to project it even further.
Scarlet Seduction
From the moment you sip this tea, it will have you ​running to the bedroom (or wherever!).

The sudden ​blood rush to your genitals will help you to get in the mood quickly! ​
Embody Erotic
This tea helps you to bring your sexy back two-fold. If you've been having a hard time embracing your ​own sexiness, this concoction helps you to not only ​feel good about yourself, it allows your inner sexy to ​step up and project enticing pheromones​ that attract ​others instantly.

Up Up*
This Lust Tea​​​​​​​ is made for you if you're having a hard ​time getting horny or "getting up." This tea helps you to get past psychological or medical barriers (we ​suggest accompanying this with Yoni or Lingam Work ​or personal coaching) and safely connect to your genitals.
*Not suggested for people who have heart problems.​
Other Products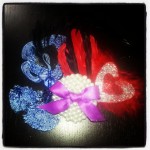 Custom-made Pasties
Have you ever thought about jazzing up your sex life with something new and different?  Or maybe you have a costume party that you where you want to impress people?  These custom-made pasties are absolutely fantastic for whatever you want.  You indicate what you want and because they are original designs, there won't be others like it!