In the sex educator's world, we often tell folks to be open to new possibilities that may occur.  Our incredible abilities to be open to being exploratory and learning new things allows us to open our minds and seek things and identities that encompass us and our audiences.
However, what I realize is that being open is not as easy as most people think it is.  When it comes to sex, people think, "I could possibly be into that" or "I don't think that's my thing."  When you fall into the latter category, you are automatically becoming biased about what could or could not be your thing.  In my previous blog, I talk about doing things at least 3 times before you know for sure that you like them.  I will always take heed to this advice and you can feel free to adopt it as your own; however, that's only when it comes to sexual matters.
Being open is not only about being open to the sexual possibilities, it's about being open to all the possibilities and working with and around all the things that seem limiting to you.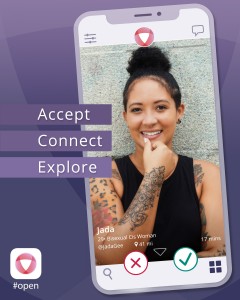 For instance, as a Community Ambassador for #open, a new dating app, I've realized that there are so many possibilities that come with our identities and our behaviors.  In this particular app, you can search for people via hashtags.  In this sense, you are able to find folks who have the same hashtag as you so you can connect based on affinity.  Since I'm into kink, I can also find folks who are near me who are into kink; in addition, I can also look for the hashtag, #partneredandopen, which can help me find people who would want to play casually with me when I'm out at a dungeon or play party.
The other reason why I like this app is because we can put as many hashtags as we want for our identities, as well.  I don't know about you, but I have a lot of identities that encompass me, so the ability to put as many as I want on my profile feel beneficial for anyone who wants to look me up!
I've given some quality advice on having a good profile for the dating apps that you're on, so make sure that you take the advice if you'd like to venture off into a new dating app world.  I highly suggest that you do because it will only be to your benefit.
For example, this app is literally for everyone and they are real serious about their terms of agreement which won't data mine your information such as Facebook and Instagram, and other dating sites.  It's completely reliable and safe.  Also, you can search as an individual (there's no way my wife would be on any dating apps), or you can search as a couple (and maybe even later they'll have a search option for those folks who are in a relationship that's more than a dyad!).  Either way, I'd say that it beats other dating and/or hookup sites, especially because this is only the beginning. As with anything, there's always room for improvement, so if you have any ideas, shoot them over to me!
Discover this for yourself and join me on the app!
Cheers to your sexual success!